Commercial Services
The landscape presentation of a business — office, store, warehouse, apartment, or any commercial building — has an impact far beyond aesthetics. It affects rental values, tenant retention, even the way customers judge a company's strength and reliability. Expert, professional services from Kohler Landscaping present your company as a well-managed, carefully controlled business partner or provider.
Nursery Plantings
Lawn Maintenance/Turf Fertilization
Pruning Program
Seasonal Flowers
Maintenance and site services
It doesn't take long for a neglected landscape to lose its designed character. That's why we consider site services — for commercial and residential customers — among the most important work we do. We'll properly prune and care for your trees and shrubs, replacing any dead or damaged plants. We'll fertilize as required to help your plants thrive. Keeping an eye open for intruders, we'll weed them out before they become a problem and maintain beds correctly. In the fall we'll gather the leaves and dispose of them properly. Year around, we'll pick up trash and keep your property tidy.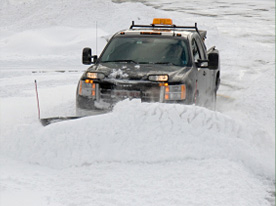 Snow Removal
Count on us for reliable, no-excuses snow removal. Our crews are prompt, efficient and thorough. There's more than convenience at stake, after all. You need the snow out of your way to do your work. And the dedication of Kohler team members can keep you safe personally and protect you from liability by controlling foul-weather hazards on your property.
Contact us today for fast, expert help with snow removal and all your site-services needs.
The Look of the Season
In any landscape, it's essential to design and plant in ways that beautifully reflect the seasons. We accomplish this with careful choices of the best perennials, selecting hardy plants integrated with the landscape design to look great right through year. But our plantings of annual flowers also provide superb seasonal accents. Summer, fall, or spring, seasonal plantings make the most of any outdoor vista, with color and form that are beautiful and appropriate to the time of year.
Much More Than Mowing
A lawn is a highly specialized plant culture. To keep it looking great and growing well takes more than someone pushing a mower over it.
Kohler is attentive to detail. On our outstanding equipment, we keep blades sharp for best results. We mow, trim and edge with care. We fertilize only as needed, using innovative organic techniques. We control thatch and optimize ph. To create new turf, we carefully select the right grasses and use current hydroseeding practices. For sloped areas, special seed-slurry additives all but eliminate erosion.
We're also sensitive to the cost dimension in turf care. So we structure our service routes carefully to help restrain costs, and operate for maximum efficiency in every part of our work. At each site, we operate to a customized work list, handing every element with care and skill on your regular timetable. Contact us today for the best in residential or commercial turf care and maintenance.